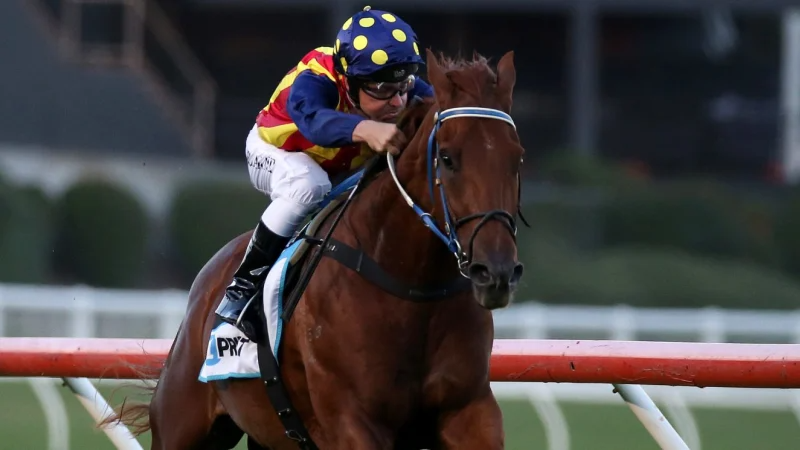 To all breeders large and small the agonising reality that they have sold a young horse, not only under its right market price, but with the prospect the yearling itself could also go on and win millions of dollars in stakes, is a sensation only they endure.
In a nutshell that's breeding. Do you bring them home to eat more of your feed only to find the horse is just fast enough to be a pacer, then live with the pain that you've turned your back on big money months before because of a hunch?
That's what makes this part of the industry the most challenging: "Will I or won't I sell?"
For most breeders however it's a matter of economics. They must recoup the service fee and at the same time pay for the two years of expensive attention lavished on the yearling while awaiting the day he steps into the ring.
Two years ago a flashy chestnut colt by Nicconi from Strikeline entered the Melbourne sale ring, to no great fanfare nor did the saleyards fall silent in expectation of a record price. To buyers he was perhaps immature and needing time, words that two-year-old trainers refuse to hear.
The colt was passed in for $90,000 and later sold to a group of Melbourne owners for $100,000.
Golden Grove Stud general manager Toby Koenig rightfully points out that however small or large the operation is, "you can't keep everything that you take to market".
On Saturday at Flemington that same colt, Nature Strip, who has taken Australian racing by storm, will start in the $250,000 Inglis Dash.
A form record of three wins from four starts doesn't accurately tell the story. In his three successes, Nature Strip has not only treated his rivals with contempt but has reeled off times that horses older and smarter would struggle to achieve.
"I think someone with imagination that saw he had the frame of a good horse, but at the same time was a little like a teenager in that he just needed time to mature and fill out," Koenig said.
The Golden Grove operation is large indeed. With two properties in NSW and one in Melbourne, the farm has proved successful in its small drafts of yearlings that have gone through the sales and achieved great things on the racetrack.
"I think Robert [Smerdon] saw that was exactly what the horse needed. Time and more time just for him to fill out and once he's achieved that you can see what an outstanding racehorse he's made," Koenig said.
He's such a big strider and goes so quickly that they think the straight will really suit him.
"He was a lovely horse from the time he was born and you could tell that when he matures you'll see the best of him, and we certainly have."
Bookmakers were taking no risks with Nature Strip who opened at $1.45 against a strong group of sprinters his age.
Koenig is aware of the hype around the gelding and agrees that his first performance at Flemington will be a telltale sign for the horse going forward.
Koenig, who was a surgical resident at Sydney University, is now the general manager of the vast numbers of horses that Golden Grove have on their books.
It's believed the bidding from local and overseas bloodstock agents has been extraordinary.
With bidding commencing at $1.4 million, Nature Strip could fetch as high as $2.7 million on the eve of one of his most important dates.
It's believed some groups that have thrown in bids are not only looking at Group One success for the three-year-old this autumn but also consider the horse so gifted that the rich multi-million-dollar Everest would not be beyond his grasp.
Co-owner Rod Lyons told Tab Radio this week he too was excited by this Saturday's race.
"It's a lot of cabbage [prizemoney], isn't it?" Lyons said.
"It's a great promotion by Inglis for sure. He's never been down the straight but I do know that Robert Smerdon and Ryan Maloney both feel the straight will suit him. He's a big strider and he just struggled a bit and lost a bit of momentum in all his starts around the turn.
"He's such a big strider and goes so quickly that they think the straight will really suit him.
"He's very inexperienced and he has shifted in a bit when they have gone for him, but hopefully he is six in front at that stage and it won't matter," he said.
Lyons said there was a push by some of the owners to head to Sydney but he believes the horse would remain in Melbourne to tackle races like the Oakleigh Plate, where he will not be overburdened with weight.
As for Koenig and the owners of Golden Grove, there won't be many moments of mixed feelings if Nature Strip is successful and becomes one of the national headline sprinters.
As the Sydney veterinary surgeon points out it's another big race winner for a business that is proving so successful. And they still have Nature Strip's mother, brothers and sisters – so they'll be cheering just as loud as Lyons and his group.